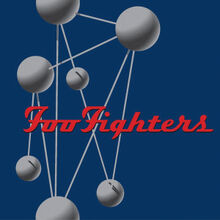 Hey, Johnny Park! is the 3rd track off of the album The Colour and The Shape. The track's name does not relate to the song at all. Dave Grohl named the song after a person he used to hang out with named Johnny Park.
Meaning
[
]
When asked about the meaning of the song Grohl said "Oh, my God, that song's about 15 different things!"
Lyrics
[
]
Come and I'll take you under


This beautiful bruises colors


Everything fades in time, it's true
Wish that I had another


Stab at the under cover


Was it a change in mind for you?
It's impossible


I can't let it out
You'll never know
Am I selling you out?
Sit and watch


Your every mood
Your eyes still remind me of


Angels that hover above


Eyes that can change from blind to blue