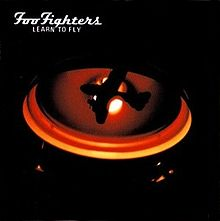 "Learn to Fly" is the first single from the Foo Fighters' third album There is Nothing Left to Lose. It was released on two different singles in the UK in 1999. "Learn to Fly" is one of the band's most successful and recognised singles, including being their first Modern Rock #1 song on the Billboard charts, beating their single "This Is a Call"'s previous peak of #2. Reaching #19, it is also the band's second highest charting single on the Billboard Hot 100, as well as becoming their first Top 40 single, while being their highest charting on the Billboard Hot 100 Airplay chart along with the 1996 hit "Big Me", reaching #13.
Music video
[
]
The music video for the song takes place on an commercial airliner, parodying the movie Airplane!, and by extension, the films Airport 1975 and its sequel Airport '77. Two airline mechanics (played by Jack Black and Kyle Gass from Tenacious D) smuggle and hide their narcotic known as "World Domination brand 'Erotic' Sleeping Powder" in the coffee-maker. This ends up incapacitating everyone who drinks the coffee. The take off sequence, in addition to the crew members hiding ulterior criminal motives, are a near shot-by-shot homage to the film Airport '77. The band, having avoided the coffee (choosing liquor instead), mirroring Karen Black's role in Airport 1975, find themselves forced to land the plane. For the video, each band member (Dave Grohl, Nate Mendel and Taylor Hawkins) portrays himself as well as several other roles, including an FBI agent who arrests the two mechanics. Also, as in the music video for "Monkey Wrench", a Foo Fighters song is played as Muzak in the beginning, this time with "Everlong" from The Colour and The Shape. The premise of smuggling drugs in airplane coffee is nearly identical to an actual smuggling operation that was uncovered in 1997.
The video was filmed in London, England in a cabin crew training airplane. The video won the 2001 Grammy Award for Best Short Form Music Video.
Personnel
[
]
the video